Hi,everyone.
I was travelling in Singapore last week for 5 days.
My Japanese friend living in Singapore told me that "IRVINS SALTED EGG" is very popular in Singapore these days.
I went to buy it ant tried it!!
What is "IRVINS SALTED EGG"?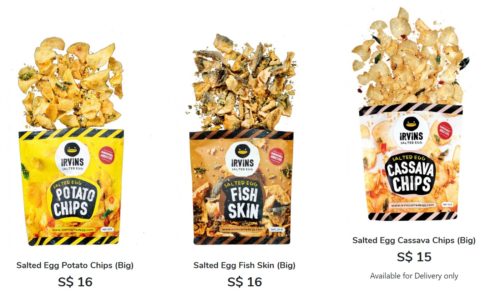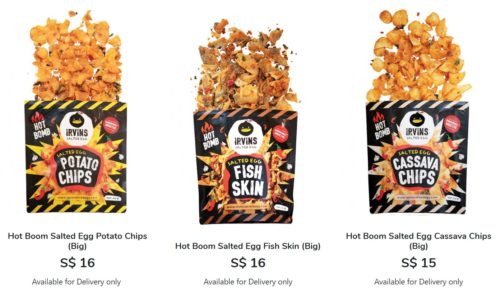 These are Salted Egg Yolk flavored Potato, Salmon Skin and Cassava!
To be honest, I thought "Is it really tasty…?" at first, because the saled egg yolks is not popular in Japan and I have never tried it.
However, salted egg yolk flavor is very popular in Singaporeans, so we can say that these chips are typical snacks of Singapore.
I heard that this "IRVINS" is so popular that we can't get them if we go to the shops afternoons.
I saw many people having shopping bags of IRVINS in the city.
Then, I went to the shop and tried to get them on the next day!!
How was the crowd of ViviCity Store?
The shop I visited was "Vivocity shop".
This shop is located on the B2 floor of Vivocity.
I arrived there at noon of a weekday.
I found it in one corner of the food floor after I missed it once because there was no line I was expecting.
The shop stood out with the colors of yellow and black.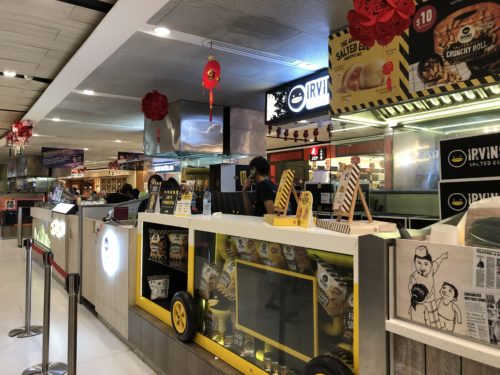 Nobody was making a line!!
I didn't worry about crowds.
I guess it is settling down the popularity now.
Varieties and Prices. Stocks in VivoCity Store.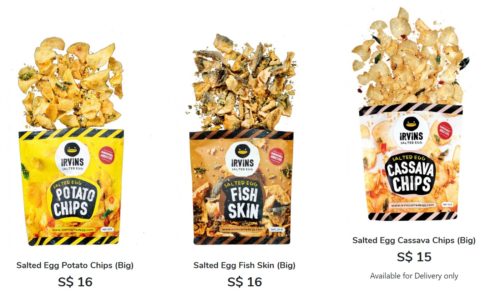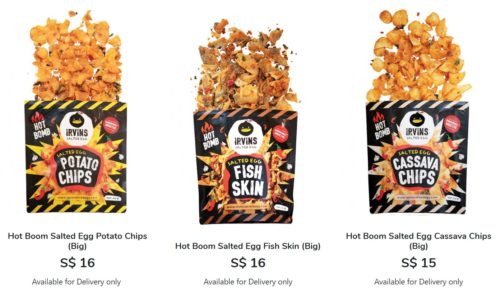 SALTED EGG POTATO CHIPS  L$16 S$8 →IN STOCK
SALTED EGG FISH SKIN L$16 S$8 →IN STOCK
SALTED EGG CASSAVA CHIPS L$15 S$7.5 →S was SOLD OUT
Hot Boom

SALTED EGG POTATO CHIPS  L$16 S$8 →SOLD OUT

Hot Boom

SALTED EGG FISH SKIN L$16 S$8→SOLD OUT

Hot Boom

SALTED EGG CASSAVA CHIPS L$15 S$7.5→SOLD OUT
They have 3 types of ingredients such as potato, salmon skin and cassava with normal and hot flavors.
when I arrived the shop, all hot boom flavors and normal flavored small cassava chips were already sold out.
One bag of potato chips cost $16! Expensive!
1 person can buy maximum 7 bags regardless of the size.
I was with my mom so I bought 14 bags total.
–SALTED EGG POTATO CHIPS S 7bags
-SALTED EGG FISH SKIN S 7bags
I was the first time for me to spend over $100 on chips!
You can get some extra paper bags if you ask them.
How was the taste??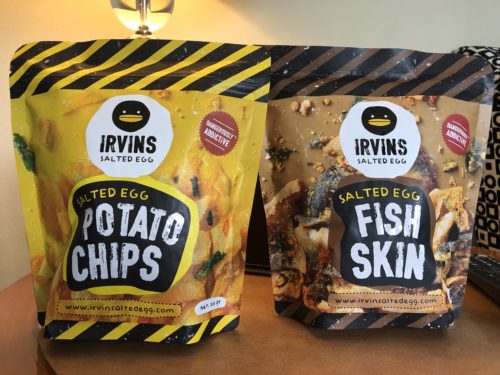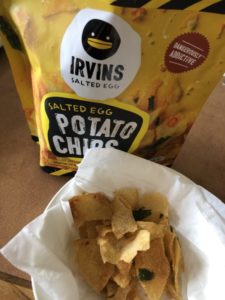 I tried "SALTED EGG POTATO CHIPS" first!
1 bite, 2bites …What is this taste? I feel fish flavor in it…
3 bites, 4 bites…It is maybe tasty…
5 bites, 6 bites, 7 bites….Wow!! I can't stop eating this!!!!!
I don't feel the taste of egg actually, but it is very savory and has strong taste.
Anyway, it is very delicious!!
There is no chips like this in Japan, but Japanese people must like this taste!
Next, I tried "SALTED EGG FISH SKIN".
Actually I don't eat fish skins usually but this chips were tasty!!
The flavor is the same as potato chips but this fish skin must better for our health.
This must go with beer!!
This is the best choice for the people who like fish skins!
I think it is a bit expensive considering the amount in a bag.
However this is good for souvenir because the taste and the design have big impacts.
Bags and the character are very cute too.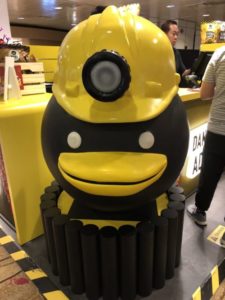 Store Locations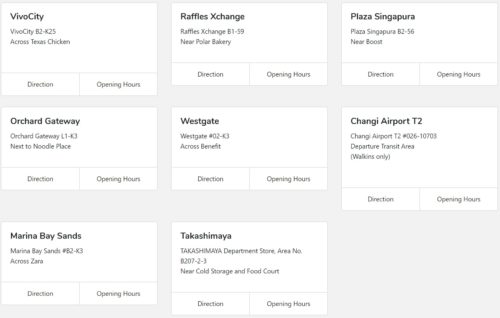 A point of February 2019, there are 8 stores in Singapore.
VivoCity
Orchard Gateway
Marina Bay Sands
Raffles Xchange
Westgate
Takashimaya
Plaza Singapore
Changi Airport Teminal2
It's very useful that stores are located in the places where Japanese tourists usually visit.
Stores are also located in Philippines and Hong Kong other than Singapore.
Store is also in Changi Airport Terminal 2! Good value with duty free price!
The store in Changi Airport is located in the area where there are a lot of shops before the X-ray security.
The prices are from $0.5 to $1 cheaper than in the city because they are duty free prices!!
they had enough stocks even at 9 pm.
You can get them at the airport if you did't have time to get them in the city.
Please note that you can't check in the baggage there so you need to carry the chips to your aircraft.
You can order "IRVINS" online!!
According to the official HP, online orders are accepted online.
If you definitely want to get them, the online order may be the best way.
You can order from Official HP(English ONLY)
Maximum 7 BAGS
First Being a online member, Second Ordering and Payment.
I proceeded the ordering procedure halfway and found the particle of "payment".
So I guess you can pay online and pick up the snacks at stores.
Summary
I have never heard about this snack until my friend told me about it even though I read some guidebooks of Singapore.
I highly recommend "IRVINS SALTED EGG" for souvenirs because we can't get it in Japan yet!!